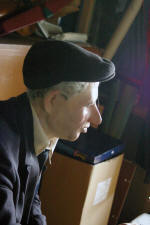 ASA volunteers are spending some of their spare time at the Stampe & Vertongen Museum. Apart from organising the interior, archiving and decorating, maintaining and cleaning, they also work on the restoration projects and do the ground support at the yearly Antwerp Stampe Fly In.
In 2003 the reorganisation and decoration of the workplace 'den atelier' in 1930's style, was finished. In 2010 a new 'Jean Stampe' arrived impersonating Jean in his office, thus completing the Stampe office. The 'atelier' itself is now used for the restoration projects: a WACO bi-plane is being restored and SV4 V28 - on lease from the Brussels Air Museum is awaiting further planning.
Besides showing planes and telling their histories, the museum also uses photographic and other didactic material for telling you the history of aviation in Antwerp, its airport and its aircraft factory: Stampe and Vertongen.
If you have any material (pictures, film, drawings, texts, ...) that you think might be of use to us, do not hesitate to contact us.
You never know, it might be the missing link we have been looking for...
Of course, all material will be returned to the owner if he so wishes.

The Stampe en Vertongen museum is a private initiative, run by people who have a warm hart for aviation and aeroplanes. The museum does not get any subsidies and relies on visitors for its income. Needless to say that this income is not at all sufficient.
However the 'Koning Boudewijn Stichting' favours our venture. All donations of over 40 euro can be brought in on your tax declaration. (art.104WIB).
Donations can be made on the account of the Koning Boudewijnstichting 000-0000004-04 mentioning "L80929 - Antwerp Stampe Center".
So, if you favour our museum and would like to contribute financially to our projects, this is the way to do it and both parties get something out of it. Your aid will be gratefully accepted.